About Us
B. Todd Sitzman, MD, MPH
Dr. Sitzman is the Medical Director of Advanced Pain Therapy, and also serves as a medical consultant for the pain management program at Forrest General Hospital. Dr. Sitzman is an active member of numerous national and international pain societies and is past president of the American Academy of Pain Medicine and Southern Pain Society. He currently serves on the Board of Directors of the North American Neuromodulation Society, Southern Pain Society and Mississippi Pain Society. He has authored more than 65 scientific abstracts, manuscripts, and book chapters, and serves on the editorial board of the journal Pain Medicine. He is actively involved in patient advocacy and postgraduate medical education and lectures nationally and internationally on topics related to pain pharmacology and interventional pain therapies. He has been interviewed and quoted in Parade Magazine, ABC News, New York Times, USA Today, WebMD, Pain Medicine News and American Medical News.
Dr. Sitzman is a native of New Orleans, LA, and received his medical and master of public health degrees from Tulane University. Following an internship in internal medicine at the Hospital of the University of Pennsylvania in Philadelphia, he received anesthesiology and pain management specialty training at the University of Virginia Health Sciences Center in Charlottesville, VA. Prior to moving to Hattiesburg, he was a consultant in anesthesiology and pain medicine at Mayo Clinic in Jacksonville, FL. Dr. Sitzman is board certified in anesthesiology and pain medicine.
He resides in Hattiesburg with his wife Lisa and daughter Olivia.
Joe Y. Kim, MD
Dr. Kim is a graduate of Loma Linda School of Medicine, Loma Linda, California. He completed an anesthesiology residency at Columbia Presbyterian Hospital in New York, NY, and a pain medicine fellowship at Johns Hopkins Hospital in Baltimore, MD. Dr. Kim is board certified in anesthesiology and pain medicine. He serves as Medical Director of Bellevue Surgery Center.
Dr. Kim is well trained in the diagnosis and treatment of chronic pain conditions, and is skilled in interventional pain therapies. He believes in an integrative treatment approach, and believes that medical care should always be delivered with patient respect and a personal touch.
He resides Hattiesburg with his wife Jacqueline.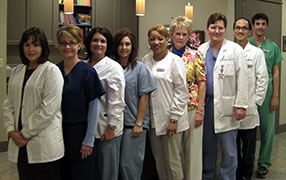 Charlyn Gilliam, RN, BSN, Director of Nursing
Charlyn earned her BS degree in nursing from the University of Southern Mississippi. Prior to working at Advanced Pain Therapy she worked for several years as a surgical nurse at Wesley Medical Center and Southern Surgery Center in the pre-operative, intra-operative, and post-operative areas. She is certified as an operating room nurse and has attended numerous pain management review courses.
Shawn Fields, RN
Shawn graduated from Charity Hospital's School of Nursing in New Orleans. She worked as an oncology nurse for fourteen years before moving to Hattiesburg. She is experienced in oncology nursing and the care of terminally ill patients. Shawn is committed to the care of her patients and has attended numerous pain management review courses.
Stacey Robertson, RN
Stacey is a graduate of Pearl River Community College School of Nursing. She has worked at Hattiesburg Woman's Pavilion, Forrest General Hospital Recovery Room, and Southern Surgery Center in pre- and post-operative areas.
All of our nurses Advanced Cardiac Life Support certified.
Get pain relief now – call today to learn how Advanced Pain Therapy can help!
Advanced Pain Therapy
7125 Highway 98 W
Hattiesburg, MS, 39402
(601) 450-7246 Phone
(601) 450-7250 Fax
info@advanced-pain-therapy.com